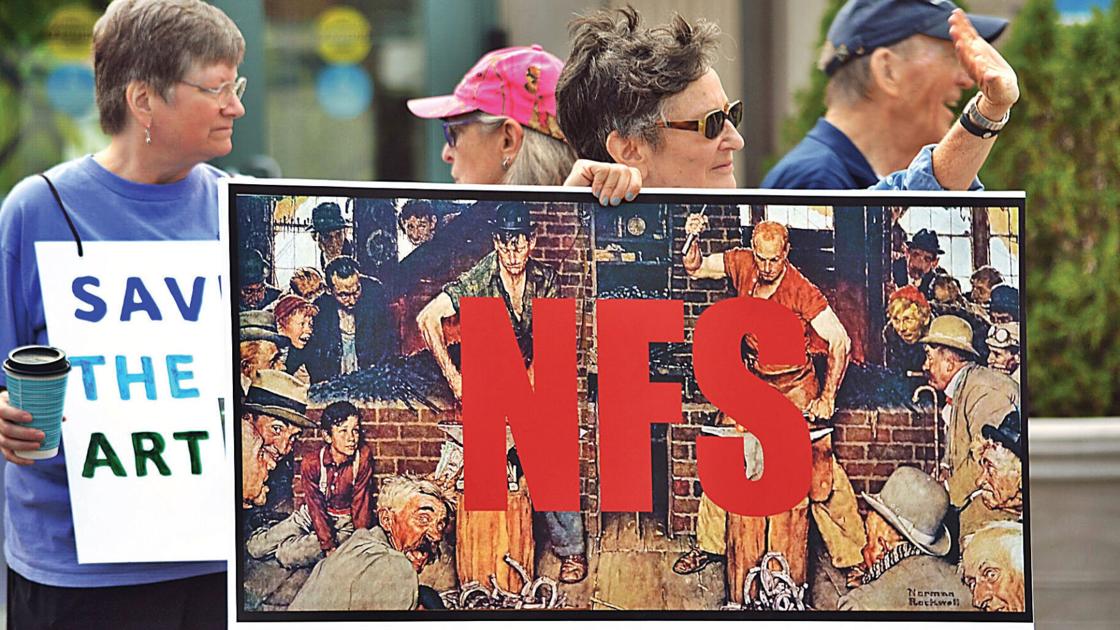 PITTSFIELD – There was a significant percentage of people at Saturday morning's protest outside the Berkshire Museum who admitted to being angry. Others said they were frustrated with the museum's plan to sell a total of 40 works of art to fund a renovation and create a permanent endowment for the organization.
But Thomas Reardon was there because he didn't understand the museum's plan.
"I've worked with museums all over the North East," said Reardon, who previously worked in the printing industry. He is now retired, but part of his job was to create printed replicas of museum art. "The Guggenheim, the Clark, museums everywhere. And I've never heard of a museum doing what these people do. I've never heard of a museum selling their art to make money. . I just don't understand it. "
Reardon is clearly not alone.
Last month, the 22-member Berkshire Museum board approved the sale of 40 works of art from its permanent collection. The sale was planned, in part to finance renovations to the structure, as well as to create an endowment. The art, mainly paintings by artists such as Norman Rockwell, Albert Bierstadt and George Inness, will be auctioned at Sotheby's. The museum administration has indicated that part of the sale is because the pieces do not necessarily correspond to the proposed new direction in which the museum plans to go.
The sale sparked a lot of commentary and controversy. On Saturday, a group of organizers held a "Save the Art" rally on the sidewalk outside the museum. The number of protesters increased and decreased, as people came and left the rally for a variety of reasons – many because they had to get to work. But crowds grew from around 40 to over 75 throughout the four-hour protest.
Protesters were peaceful and made no attempt to prevent patrons from entering the museum.
But their signs and comments clearly illustrated their position.
"This museum is the custodian of this work of art," said Susan Lockwood of Richmond. "This is for the Berkshire community, not for the museum board. It is not for them to sell."
"The protests are important," said Florence Mason of Stephentown, NY. "The museum needs to know that they are being challenged, that the community is not happy with this arbitrary decision."
"No one," Adams artist Ken Shaw said, "has put a work of art in this museum with the intention of finding it in someone's living room in India or elsewhere. gift of his art for this purpose. "
Throughout the morning, protesters held up placards calling for the conservation of art. A woman held up a sign listing the 40 works of art for sale. All morning long, the demonstration gleaned support from passing cars, honking their approval.
"Most truck drivers seem to be in favor of this," said local artist Winfield G. Horner.
Contact editor-in-chief Derek Gentile at 413-770-6977.
Source link