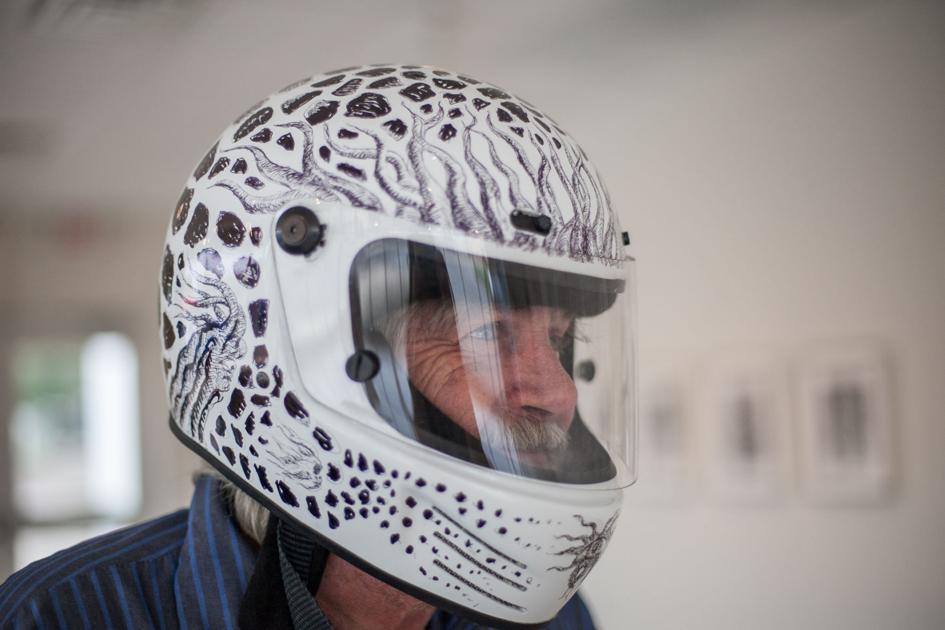 5 Points Pleasantly bizarre museum art exhibit | Entertainment
[ad_1]
Artist Noah Edmundson draws in the moment.
"The only thing that matters is the final image," said the Houston artist. "It doesn't matter how you got there."
The Five Points Museum of Contemporary Art will display Edmundson's collection of art cars, sculptures and 50 pencil and ink drawings through June 12.
The largest drawing in Edmundson's exhibition, "Harithas Effect," makes a statement as bold as it is enigmatic.
Engraved and shaded in black ink and pencil, three bizarre and disparate elements stand against a vaguely organic canvas that might be more comfortable as a diagram in a biology textbook.
Thin, feathery lines include a steep-topped mountain, which grows out from the lower right corner of the design. A moon or other celestial body looms in front of the mountain, its surface overflowing with unbiased eyes.
Below left, a coral-like protuberance with eyes peering through its lumpy skin reaches the ever-vigilant moon above.
The artist loves to draw eyes, and his work at the Victoria Museum shows this.
"I put my eyes on everything because humans like to humanize everything," he said.
The other 49 drawings are just as strange.
Edmundson said he doesn't like to think too much about his art but rather draws whatever comes to the surface of his imagination.
"People bring their own feelings to the designs," he said. "I draw them just because they interested me."
His approach to making the designs presented was an impromptu creativity practice. He often uses an eraser early in his process.
"The finished image is as big a surprise to me as it is to anyone else. I can sort of see it come out, but it's kind of like sculpture. You sort of shrink it down," did he declare. "You're never quite sure what the end product will be like until it hits you."
Edmundson said he created many drawings at Rehab, a dusty Houston cooler where he enjoyed cold beer and casual conversations while drawing.
He said he preferred a relaxed environment when drawing.
"When I draw, I am meditating," he said.
Edmundson's exhibition debuted with the museum's opening on April 16.
Those who visited the museum in its first few weeks responded consistently to the installation, said Maurice Roberts, chief curator.
The museum's first weeks were a success, he said.
At least 500 visitors stopped by the museum during its grand opening, an event that coincided with the Art Car Parade and JamFest events.
Since then, museum workers have witnessed a steady stream of curious Crossroads residents, he said.
And its popularity is growing rapidly, he said. The museum will soon host its first field trips to local schools.
Roberts said he was happy to welcome Edmundson's art during the museum's historic early weeks and months.
"He was such a natural candidate for the inaugural show," he said.
[ad_2]