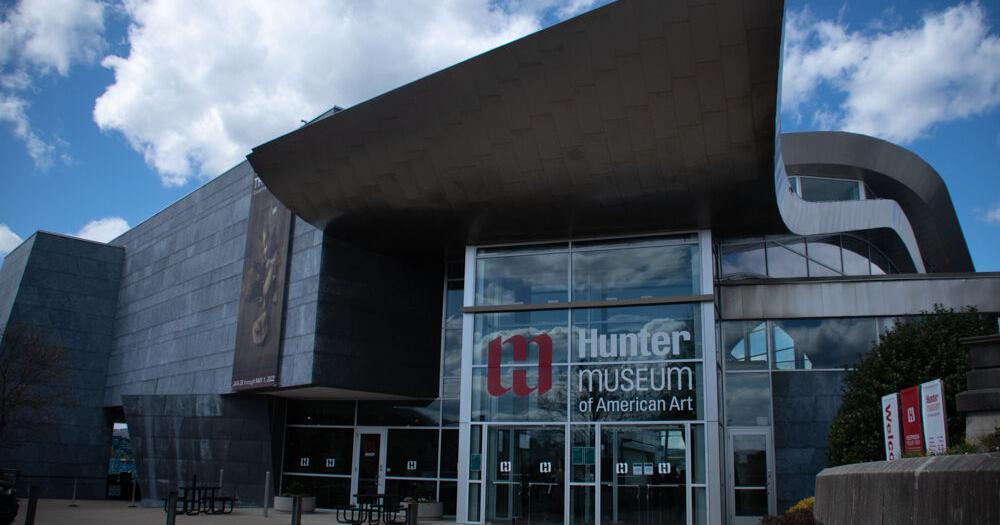 Art by a UTC student presented at the Hunter Museum Art Symposium | Features
A UTC student was again one of the presenters at the Hunter Museum of American Art's annual student symposium, titled "The Politics of Choice" and hosted by a UTC professor.
Madison Cothern, UTC senior, presented her slideshow on John Milton's Paradise Lost during the April 9 online event. Dr. Stephen Mandravelis, assistant professor of art history, led the Zoom discussion with Adera Causey, curator of education at the museum.
"I was very excited because it was a project I had been working on for almost two years," Cothern said.
The Hunter's Spring 2022 exhibition, "Beyond the Frame," inspired the theme for the symposium. The exhibition celebrates the 70th anniversary of the museumand anniversary and explores their acquisitions during this period.
Cothern explained how Milton transformed the character of Satan into a more relatable figure and how it has stood the test of time since the poem was published in the 1600s. She included the characters Hamlet, Harley Quinn and Rick from " Rick and Morty" in his presentation.
"One of the main reasons these works are still preserved today is their cultural relevance," Cothern said. "Because these works of art were deemed artistically significant, so they survive."
Mandravelis suggested the theme as a "distraction" and an alternative to COVID.
"Embracing the politically charged nature of artistic creation and collecting is a compelling mirror of our own broader social values," she said.
Presenters spoke about race, feminism, masculinity and the AIDS crisis. They discussed Wall Street's Charging Bull and illustrator Oscar Wilde as well as other paintings, installations and photography. Students from Alabama, Florida, Georgia, Iowa, Rhode Island and New York took part. Mandravelis and Causey had their own follow-up questions afterwards.
"We don't always have UTC representation at the symposium, it really depends on that year's submissions," Causey said. "But this year we were thrilled to have a student from UTC who did a terrific job," she said, referring to Cothern.
Causey said the symposium, now in its ninth year, has always been open to students across the country. The announcement is aimed at academic mailing lists from several different departments, not just art. She receives dozens of responses. Causey contacts professors, usually at a regional university, and invites them to participate and help select those invited.
"Each year we have a theme loosely related to an exhibit we have," Causey said. "We always try to choose a theme that fits well into all programs and we will work with students working on innovative research across the country."
"Beyond the Frame" features artwork ranging from the museum's very first acquisition in 1952 to its latest purchase in January 2022. The museum has recently been very intentional about the type of work it has pursued, according to an interview. from the WUTC with director Virginia Anne Sharber and chief curator Nandini Makrandi. They looked at gaps in the collection and set priorities for women artists, artists of color and new media.
"The general public doesn't really understand what artists and art historians do," Mandracelis said. "(They) explore how the social, political, religious, racial, gender, and economic conditions of society have (been) shaped, influenced by, and in dialogue with visual culture, both past and present."
Some other themes were crossing borders, creating and marking space, cultural exchange and "We the people".
Mandravelis said these events provide an invaluable experience.
"There really isn't any other opportunity for undergraduates to practice presenting their own original research," he said, noting that it's more typical for graduate students. "For the arts community…(they) are hinting at the changes in the field over the next few years," he said.
Cothern is one of many students considering expanding their project. She is also a tutor at the Center for Writing and Communication and contributes to the social media team at UTC Honors College. Scholar Brock graduated from Hamilton County Collegiate High at Chattanooga State Community College with a high school diploma and an associate's degree in history concurrently.
This summer, Cothern will work and teach ballet and American Sign Language. She plans to graduate at the end of 2023 with a secondary school diploma in history and go to doctoral school.
The museum posted this year's and last year's symposia on its YouTube channel. Last year's theme was "Bringing Identities Together" and had two presenters from UTC.
"If we could get even one more person thinking about how an image influenced one of their decisions, I think the symposium would have served its purpose." said Mandravelis.