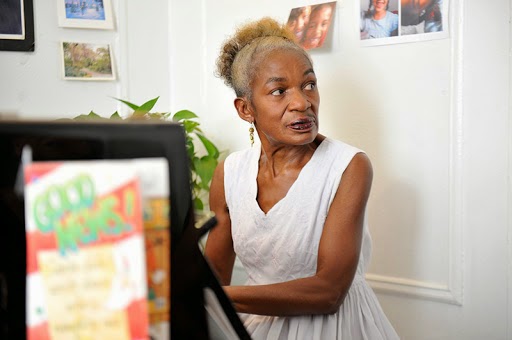 Jazz Notes: Jazz Museum, Art & Origins, Harrison & Eliot Jazz Heroes, P's Place
Arturo O'Farrill & the Afro Latin Jazz Ensemble with Franco-American singer Malika Zarra will perform at the National Jazz Museum in Harlem (58 West 129th Street) on April 18 at 8 p.m.
The pianist, composer and director of the Afro Latin Jazz Orchestra is best known for his contributions to Afro-Cuban jazz. Zarra is a French-American singer, songwriter and music producer of Moroccan origin known for her chants in Moroccan Arabic, Berber, French and English. She became interested in jazz because it was similar to traditional Arab music in the fundamental importance of improvisation. She has performed or recorded with John Zorn, Will Calhoun, Lonnie Plaxico and Michael Cain.
On April 23 at 2pm, "Toes Tapping, Brain Mapping" also takes place at the National Jazz Museum in Harlem. Join neuroscientist Paula Croxon and pianist Helen Sung for an afternoon of jazz with a scientific side to how and why music touches us so deeply.
This program is designed for people with dementia, their care partners, friends and families.
On April 19, the Museum of Art & Origins presents Uptown Emissaries & Visionaries, a compilation of music and poetry to stimulate understanding of Afro-Atlantic consciousness. Renowned African artist and specialist, and author of essays, reviews and books on traditional African and contemporary art, George Nelson Preston will perform from his works of poetry with We Three Thongs featuring violinists Charles Burnham and Gwen Laster on viola. Melanie Dyer, cellist Alex Waterman, bassist Ken Filiano and drummer Michael Wimberly.
Admission is $ 20. Food and wine will be served. The event takes place at 430 West 162nd Street in Manhattan.
Uptown Emissaries & Visionaries is a series of 10 open sessions on Sunday afternoons with creative music improvisers from New York and three evening performances, from April 19 to October 26, 2019. To explore the ways in which speech, music and the visual arts converse with each other in a historical and contemporary Afro-Atlantic narrative, visit the full program at www.museumofartandorigins.com.
The Jazz Journalists Association announced honors for 22 "jazz activists, advocates, altruists, helpers and accomplices" in 20 US cities, completing the 2019 Jazz Heroes list. From Amherst, Massachusetts to Los Angeles, California, Seattle to South Florida, all heroes are in one way or another and sometimes simultaneously presenters, educators, nonprofit administrators, public faces. grassroots organizations or active actors supporting and developing US-born music in their local communities and beyond. The full list of laureates, with photographs and biographies, appears on the JJA website.
The two New York City Jazz Heroes 2019 are Sunday Jazz Parlor pianist, singer and performer / hostess Marjorie Eliot and jazz magazine promoter, mentor and founder Jim Harrison.
On April 20, Harrison's Jazz Hero Award will be presented at Sista's Place (456 Nostrand Avenue, Brooklyn) at 9 p.m. ET. Composer and trombonist Craig Harris' Tailgators Tails will perform for two shows at 9 p.m. and 10:30 p.m.
At 86, Harrison is a promotions consultant for Jazzmobile's summer concerts. When Dr. Billy Taylor co-founded Jazzmobile in 1965, at the height of the Black Power movement, he hired Harrison to coordinate all of the organization's concert promotions and special events.
Prior to assuming this position, in 1961, Harrison formed a fan club for alto saxophonist Jackie McLean, hosting "listening nights" with recordings reserved for McLean. He decided to push McLean into non-traditional jazz contexts where a cabaret card was not needed. To reciprocate, McLean connected Harrison to Slug's (the legendary East Village jazz club), where he was a music promoter from 1965 to 1972.
The promotion of concerts for Lee Morgan in Staten Island and the Bronx led Ms Management (co-directed by Maxine Gordon and Hattie Gossett) to hire Harrison as a record promoter for Boomer's and Sweet Basil's jazz clubs from 1976 to nineteen eighty one.
In 1979, Harrison founded and published Spotlight News. The journal began with 12 pages and flourished to 144 when it closed in 1982, to join musicians Barry Harris and Larry Ridley in founding the Jazz Cultural Theater, where he worked until 1987.
He has always been a rather low-key gentleman, with a big smile, a good sense of humor and a quick wit. Among his close friends are renowned musicians such as Jimmy Heath, Rene McLean, Craig Harris, Gary Bartz and Charles Tolliver. Although he didn't spend time promoting himself, jazz hero Jim Harrison is widely known as a living jazz legend.
Tickets are $ 20 with advance reservation at 718-398-1766.
On April 21, Marjorie Eliot's Jazz Hero Award will be presented at her prestigious historic residence at 555 Edgecombe Avenue, apt. 3A, 3.30 p.m.-6.30 p.m.
Loyal fans have been coming to Eliot's Jazz Parlor for 20 years, and some have raised a younger generation of attendees. They come during the scorching heat of summer, rain and snowstorms. The Jazz Parlor has become so important that tourists from Belgium, London, Paris, Australia and Japan all mingle with local Harlem jazz lovers.
The Eliot Jazz Lounge is reminiscent of the days when clubs lined the busy streets of Harlem, when rental parties were all the rage and jazz musicians playing downtown at Three Deuces or Five Spot flocked to the city. up town to jam in a Harlem apartment until dawn. She perseveres every week to find ways to pay musicians. Every Sunday, she swears, is a paid concert, not a charity.
Donations help pay the musicians and keep the operation afloat. "The audience every week is a big surprise to me," says Eliot. "They embrace the idea of ​​this living room jazz. They do it, and it's just miraculous. As a member of the Association of Jazz Journalists, this writer will present both awards.
After a long winter that continues to linger P's Place (28 Watkins Place in New Rochelle) returns with the young trumpeter Bruce Harris on April 28, 2019. The concert begins at 3 pm-5pm
Harris, born and raised in the Bronx, has appeared in two Broadway shows, "After Midnight" (2013) and "Shuffle Along" (2016), with artists including Fantasia Barrino, Patti Labelle, KD Lang, Tony Braxton and Audra McDonald's. Harris has compiled an eclectic list of collaborations with artists including Lady Gaga, Rihanna, Steve Martin, Harry Connick Jr. and the hip-hop artist DJ Premiere.
Donations are $ 15 at the door and children are free. Refreshments will be served, and you can bring your own bottle if you wish.
For more information and reservations, call Pauline at 914-235-6398.