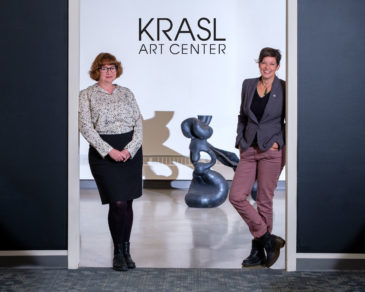 Krasl Art Center announces the transition of the management team
Krasl Art Center (KAC) announces a new management structure. This announcement follows months of discussions, planning and negotiation between KAC's Board of Directors and management to prepare KAC for a strong future with staff, volunteers, artists and communities across the Southwest. Michigan.
Tami Fauver will now serve as Executive Director and Chief Curator of KAC, and Julia Gourley Donohue will assume the new role of Senior Director of Advancement.
Board Chairman Brian Edlefson said on behalf of the KAC Board, "Julia Gourley Donohue's leadership over the past 11 years has fundamentally transformed the organization. She fostered deep relationships in St. Joseph and Benton Harbor while simultaneously driving the physical and strategic evolution of the Krasl Art Center. Tami Fauver (formerly Miller) inspires community discourse with exhibits that feature national and historical themes from Southwest Michigan. Accomplishments, appreciation and accolades rarely satisfy intelligent, curious professionals. Together, Julia and Tami approached the board with questions about their career aspirations and current work.

"The Board is fortunate to capitalize on these senior executives to position the organization for the future. To amplify their unique talents, we have elevated Tami Fauver to the position of Executive Director and Chief Curator. Additionally, we have created the new position of Senior Director of Advancement, which Julia Gourley Donohue will serve, to ensure that we continue to benefit from Julia's leadership. This new structure advances Tami's vision to generate ideas and programs that reflect the changing needs of our community. Julia's new role provides the time and resources needed to build a stronger and more sustainable financial foundation.

"We (the Board) recognize this as a critical moment in the maturity of Krasl Art Center by celebrating the strengths of Julia and Tami, enabling them to fulfill KAC's mission to inspire change. meaningful and strengthen community through the visual arts."
Both professionals have over 28 years of collective experience at KAC. Gourley Donohue started as Director of Education in 2005. Fauver started in 2008 as Director of Exhibitions and Collections. In 2012, Fauver also began overseeing the education department after Gourley Donohue was promoted in 2011 to executive director. In 2018, Fauver was promoted to assistant director and curator.
Julia Gourley Donohue commented, "It has been my true honor to lead the Krasl Art Center for the past 12 years. I am grateful to the KAC Board of Directors for their unwavering support and willingness to consider and embrace this unique leadership transition. I am excited to step down from my role as General Manager so that KAC and our community can benefit from Tami's creative and thoughtful vision. This new role will allow me to help position the organization for the future, while giving me mental space following the personal and professional challenges of the past five years.
Tami Fauver said, "I look forward to building on the success and legacy of Krasl Art Center and my wonderful colleague, Julia Gourley Donohue. KAC is a unique and special place. My goal is to ensure that the art center remains vibrant within the community; that it is welcoming and inclusive for diverse artists, creatives, curious and learners; and to do so with excellence and creativity.
Together, Fauver & Gourley Donohue have successfully implemented several fundraising campaigns. These include new entrance lighting around Dale Chihuly's 'Beacon Gold Chandelier', various gallery and building upgrades, and most recently the 'Sculpting Community' project, including a monumental sculpture commission by artist Richard Hunt. Both have provided leadership for the organization, participating in the 2010 re-accreditation by the American Alliance of Museums and the 2016 adoption of the organization's new mission statement.
Chat with our leaders Monday, October 24
The Krasl Art Center will host a town hall meeting with board representatives, Gourley Donohue and Fauver on Monday, October 24 at 6 p.m. in the gallery of the Krasl Art Center located at 707 Lake Blvd. in St. Joseph, Michigan. Community members are invited to participate in the discussion about the arts in our community.
Biography of Julia Gourley Donohue
Julia Gourley Donohue moved to southwest Michigan and joined the Krasl Art Center as Director of Education in 2005. In 2011, the KAC Board of Directors promoted her to the position of next Executive Director following a national search. Prior to KAC, Gourley Donohue's experiences included working in museums and organizations focused on experiential learning. Gourley Donohue has a deep commitment to making expressive artistic experiences accessible to all, to leveraging the benefits of public art and cultural programming for communities at large, and to helping people connect with the arts of a way that is personally meaningful. She holds a Bachelor of Fine Arts from Ohio University and a Masters of Education in Arts Education from the University of Dayton.
She and her son reside in St. Joseph, Michigan.
Biography of Tami Fauver
Tami Fauver has worked at the Minneapolis Institute of Arts, the Minnesota Museum of American Art, and the Cleveland Museum of Art in the education and curatorial departments. She holds a Master of Arts in Art History and Museum Studies from Case Western Reserve University and a Bachelor of Fine Arts from the University of Minnesota Duluth. She is also a proud graduate of Perpich Arts High School, a tuition-free public residential high school in Minnesota. Fauver has written and presented numerous articles on subjects related to the arts, including reviews of exhibitions, scholarly analyzes of early 20th century paintings and sculptures, investigations of gender and sexuality in art, case studies on public art and planning, and more recently on diversity, equity, accessibility and inclusion in museum practice. She and her spouse reside in Benton Harbor, Michigan.
ABOUT KRASL ART CENTER
Krasl Art Center is a nonprofit art museum and learning center that enriches the lives of people living in or visiting Southwest Michigan by providing enriching artistic experiences through a variety of educational opportunities, meaningful events and high quality exhibitions and collections. KAC's mission is to inspire meaningful change and build community through the visual arts. To learn more, visit krasl.org.
Main photo: Tami Fauver and Julia Gourley Donohue
Photo courtesy of David Knight and Krasl Art Center