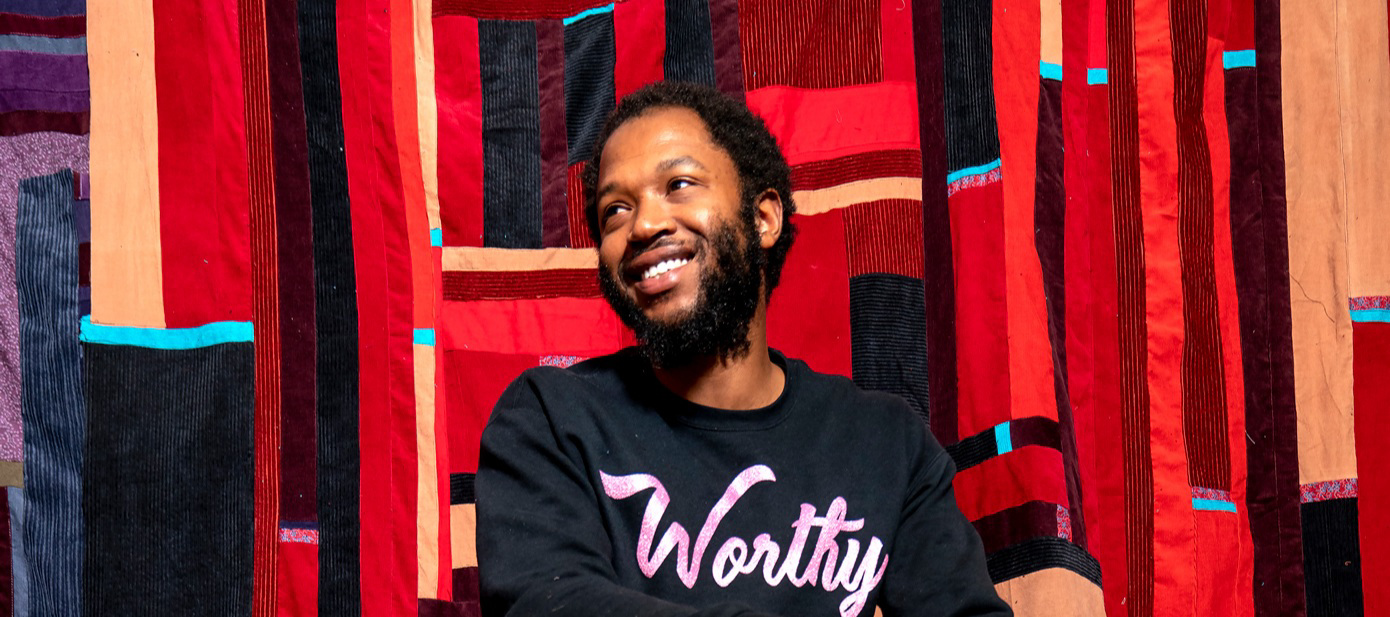 Made in his Accra studio, Basil Kincaid's quilts connect black quilt histories, including his own family
Artist and quilter Basil Kincaid is aiming high, not only with his recent habit of jumping as a form of body training, but also with the ambition of his mixed-media quilting works currently making their New York debut at the artist solo exhibition "River, Frog and Crescent Moon" at Venus Over Manhattan. The Upper East Side gallery's seven large-scale quilts feature densely woven, story-rich surfaces that combine the subliminal with the everyday. twisted bodies with large phalluses span dreamlike, flowing landscapes; geometric patterns provide mind-bending backdrops. Overall, the vivid hues – mostly textiles that Kincaid collects from those close to her – remain lingering.
"Some of the mythology in the work takes everyday elements in life and assigns additional meaning," he says. "It could be seen simply as a leap or a metaphor for taking a leap of faith or reaching a new height." The bouncy silhouette of the series' only vertical quilt, Frog (2022), is autobiographical, capturing both his recent hobby and the limits of his studio practice. This year alone, the 36-year-old has been featured in group shows at Kunsthalle Krems in Austria, the Smithsonian American Art Museum in DC, Laumeier Sculpture Park in St. curator Legacy Russell, "The New Bend", and another solo exhibition in Miami with the Mindy Solomon Gallery.
Moving to Accra in 2014 as part of an Arts Connect International residency as a painter was a turning point in Kincaid's life and career. After years of working as a college art teacher, he had felt the need to open a new chapter in his own practice – and the residency allowed him to choose an international destination for a nine-month stay. Kincaid chose Ghana to see the dungeons built for slaves on the coast during the slave trade. There he started to do quilting for the first time, "because I felt close to my family history", he says. "After an upbringing focused on the Western canon in school, I wanted to know what my lineage produced." Using his "muscle memory" to bend over the paper to draw while a 10 year old was helpful in spotting and weaving horizontally on the floor. Today, the artist's work espouses local Ghanaian fiber traditions, such as kente fabric, with traditional black American techniques, "to look at their relationships through the materials and the act of weaving," he explains.
Coming from a family with a long history of quilting, Kincaid recalls watching his grandmother and friends doing needlework on his grandparents' farm in Arkansas with "a distant curiosity." . Today, the spiritual element of her practice is heavy "because I can feel her energy with me." Revisiting the family line also gave Kincaid a fresh look at art history. Her grandmother's intuitive quilts, similar to the southern tradition of Gee's Bend, serve as inspiration. "These patterns she created are the pinnacle of abstraction, but no one thought of them that way," Kincaid says. Her own work is committed to giving the quilt the artistic lineage it deserves.
Quilting in his Accra studio where all the works for his new show come from, the act is bigger than himself, a meditation that weaves together the efforts of generations of famous and forgotten black quilters. Sewing emotionally charged fabrics together with intuition is key to letting your subconscious mind lead the way. "If I had to filter my ideas through my cognitive mind, who knows if I would have started quilting," admits Kincaid.
"River, Frog and Crescent Moon" on view at Venus Over Manhattan through October 8, 2022, at 120 East 65th Street, New York, New York 10065.
Subscribe to the Cultural newsletter
Of course, we can be close friends. Unfiltered access awaits.