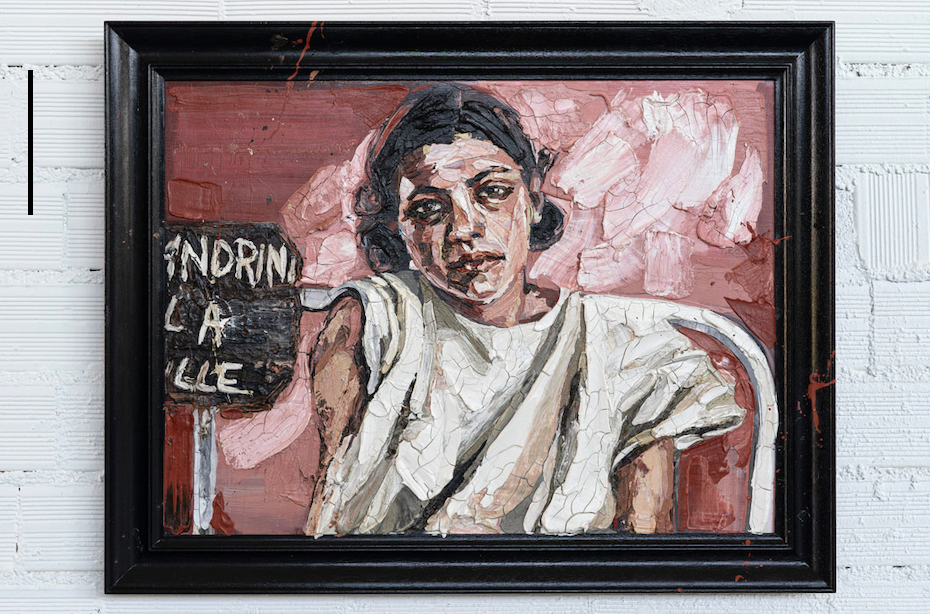 Monica Lundy paints forgotten stories and overlooked individuals
"I remember many times when I was little adults would watch me draw and ask me, 'Are you going to be an artist when you grow up?' said painter Monica Lundy. "I hated that question. I thought being an artist would be a terrible career choice.
She imagined that she would become a scientist or a biologist. But in the end, she just didn't want to give up her true creative nature to become something or someone else.
This resolve was perhaps related to the contrasting effects of the visual backgrounds in his biography. Born in Portland, Oregon, Lundy moved to Saudi Arabia when she was eight years old. She then traveled the world, experiencing various cultures.
As a small child, Lundy's parents kept her occupied while they worked by placing her on the floor of their home office, surrounded by pencils, crayons, pens and paper. When she started drawing on the walls, her father lined them with butcher paper so she could draw as she pleased.
As a teenager, she attended the Idyllwild School of Music and the Arts in Los Angeles, a boarding school for young artists. Afterwards, she moved again to study at the School of the Art Institute of Chicago, where she obtained her BFA in 1996. In 2001, Lundy spent a year in Florence, Italy, studying at Studio Art Centers International before landing in the Bay Area. where she lived the longest of her life.
Lundy is inspired by challenges. In her studio practice, she draws inspiration from rare historical images, which she finds through numerous trips to archives and museums around the world. The process serves as a pilgrimage, to get closer to its subject, and has included a deep dive into San Francisco's history, with Lundy portraying its sex workers and people throughout history who have been incarcerated at Alcatraz and San Quentin.
"There's a special connection that happens onsite that just doesn't happen online," Lundy said. "Talking with archivists and learning about different stories really ignites my curiosity and passion for the work."
This historical curiosity finds an echo in its methods and techniques. His intuitive works, rendered in muted tones resembling old sepia-tinted photographs, used coffee, burnt paper, terracotta and white gold. They capture the feeling of a story that fades once left in the shadows.
The artist is also motivated by conversations with other creators, writers and historians, including her former mentor and beloved friend Hung Liu, who died in August. Lundy and Liu have created works that delve into the hidden stories of the past, exploring the world that has emerged from these often tumultuous histories. It was a shared fascination.
"I first met her as a professor at Mills College where I started the MFA program in 2008, specifically to study with her," Lundy said. "We have spent so much time together talking about life, art and inspiration. For both of us, the key to inspiration is a process of seeking and maintaining an open curiosity about life. and history.
Lundy's curious and experimental practice begins with a considerable amount of time spent reflecting on the source material, a process that, minute by minute, equals the time she actually spends painting. Until four years ago, she worked exclusively from her studio in Oakland. But in 2017, during a residency at the American Academy in Rome, she fell in love with Italian life. Lundy now has two additional studios in Italy: a gigantic warehouse in the Agricultural region of Pordenone north of Venice where she makes large-scale installations on several panels, and a second studio in the Prati district of Rome, the historic heart of the city which is close to the Tiber, the Piazza d' Spain, Piazza Navona and the Vatican.
"Situated between a music school and a church, there is often beautiful piano or choir music drifting through the windows," she said. "And I cherish a routine walk to the art store that takes me right by the Pantheon and Bernini's statue, 'The Elephant and the Obelisk'."
She also plans to open a studio on the family farm in Los Padres de Santa Barbara National Forest. Thanks to several studios, Lundy can indulge his passion for travel while continuing to work.
Interested in the cultural and societal perceptions surrounding characters who have existed on the periphery, Lundy explores how perceptions change over time. The simple fact of walking down a street can be an opportunity to perceive color, composition and history.
The pandemic has altered Lundy's work in subtle ways. Previously, his paintings consisted almost entirely of portraits. During the COVID-19 epidemic, she began to think more about the spaces we inhabit: architecture, interiors, gardens. Each space, she realized, has its own personality, history and mysteries.
Lundy recently began a new series of liquid porcelain and mixed media paintings she calls "Portraits of Place", which consist of psychologically charged landscapes, including the exterior and interior spaces of abandoned mental hospitals. Additionally, she worked on small "painting sketches," formal studies for what would become larger multi-panel painting installations.
His most recent exhibitions include a solo exhibition at the Turner Carroll Gallery in Santa Fe entitled "Physiognomy of the Abandoned" and an installation in Rome of a 72-hour site-specific exhibition curated by Giuliana Benassi entitled "There is No Place Like Home / Roma." Her work is represented by the Turner Carroll Gallery and Nancy Toomey Fine Art.
For more information, visit his Instagram page or www.monicalundy.com.