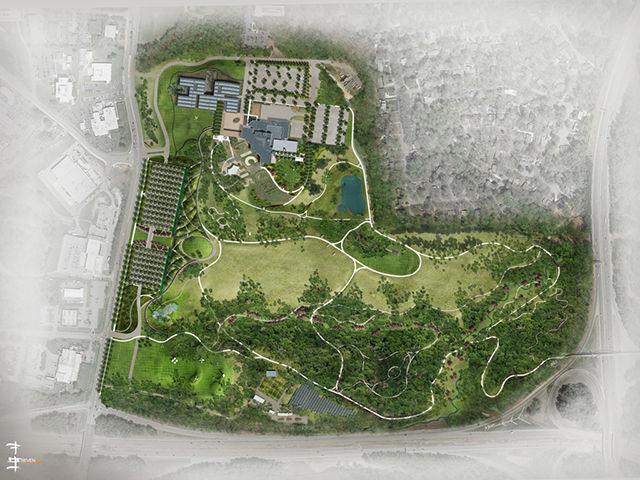 NCMA Expands Largest Museum Art Park In United States | Culture & Leisure
The North Carolina Museum of Art is expanding its current 164-acre park with forest restorations, additional trails, outdoor artwork, a new streetscape and more. The expansion replaces a former juvenile prison site and will provide more parking spaces and gardens while keeping in mind a sense of improved sustainability. The site should be completed in early July 2016.
The museum's mission is to connect people to art. Dan Gottlieb, NCMA's director of planning, design and museum park, said this particular museum has a unique advantage over most being that it has the largest museum art park in the states. -United.
"In developing a park-museum idea, it's about thinking about how we bring art to a wider range of our community," said Gottlieb. "Our land offers an incredible opportunity to use non-traditional methods and means to reach a much larger audience. "
The underlying goal of creating the park is to be a beneficial addition to the community as well as transform the land in a positive way, according to Gottlieb. He said that in order to transform the damaged state prison site into an attractive community place, the team must consider how the expansion can be "a good neighbor and a good citizen" for the residents of Raleigh.
The NCMA's park expansion could help attract more visitors, including a more diverse group of people, as parks are used more widely and by a wider economic range of people than galleries, according to Gottlieb.
"Regarding a very different audience, those who want to recreate, those who want to experience art and nature, it started from zero [people interested] 10 or 12 years ago to over 150,000 now, "Gottlieb said. "We think that at the end of this project we will see a very important bump and more than that, a wide range of the community and people from far and wide who might not enter the gallery doors."
Typically, a small percentage of the population regularly uses art museums in the traditional way, according to Gottlieb. Even art museums in populated metropolitan areas experience these low numbers, but the proportion of people who use parks and view them as cultural facilities is higher, especially among young people.
Design
Unifying both the park and the museum buildings is one of the factors that go into the design itself. The park extends this formalized setting into an informal natural setting that blends art with nature.
"In terms of design, you can think of it as a kind of gradient, if you like, that's kept good design between formal and informal," Gottlieb said.
The NCMA space has a new west building with a more elegant style that features works of art. Gottlieb oversaw the construction of this particular building and although it is more formal, it has a 50% glass exterior to let in natural light. The entrances to the exterior gardens are inside. This unity between formal and informal will be further extended with the expansion of the park.
"Everything is put together with what I hope is an eye for design which has a texture of complexity that is linked by good circulation and a good type of experience but changes, if you will, both ways from formal to informal, from traditional to unconventional, "said Gottlieb.
Gottlieb also uses memory mapping when designing the park extension.
Memory mapping is the hierarchy of what lingers in a person's memory as they rethink an experience, and that hierarchy might be different from what a museum curator thought they were creating, according to Gottlieb.
"When you ask people to draw their experiences or describe them in a different way and set up a hierarchy, it surprises you sometimes," Gottlieb said. "One thing that's pretty consistent is that experiences with nature are often high in the hierarchy of people's memories."
According to Gottlieb, asking people to draw their hierarchy of experiences, including people from the state of North Carolina, was instructive for staff in thinking about what should be a priority in terms of next steps in the development of the place. .
"The hallmark of good design for an open space like this is where people can have their own experiences," Gottlieb said. "It is more difficult than it seems to create a neutral space in terms of experience but offering a framework for [future experiences]. "
Rather than focusing on the technical details of trail design and park design, more and more people will think about bringing their families to the park, seeing what exhibit is going on at that time, going to a concert or maybe just chilling out for a day, according to Gottlieb.
Another part of the unifying factor for the park expansion is to bring the museum space to the front of the street on Blue Ridge Road, which will create a new entrance to the campus and improve development in the area. During this period, many state properties will be transformed into public-private development, according to Gottlieb.
"We're kind of the first kid to make this improvement," Gottlieb said. "The Rex Hospital is doing a good job as well, but we bring it to the urban core and hope that we will – I know we do – catalyze good development around us," said Gottlieb.
Durability
Another consideration for the design and future function of this project is the sustainability of the park and the effects on water in the area. Rachel Woods, outdoor curator of horticulture and sustainability, said the extension team tried to reduce the project's carbon footprint and reuse some of the materials. One initiative taken by the extension is water management.
"We tried to reduce the carbon footprint of the project and reuse some of the materials that were already there," said Woods.
Two new parking lots will be added during the expansion of the park, which will increase the number of surfaces that water cannot cross. Runoff, or water flowing over surfaces, then becomes a consideration in the sustainability of the project.
"We collect all the water from those that will go into what we call a water quality strip, and then it's kind of a rain garden, and then that water then goes down to another mechanism called a sink where it's designed. to help water slowly seep into groundwater and reduce runoff, surface water flowing, "said Woods.
All of the steps the water goes through also cleans the water, which is important since the museum's water goes to House Creek and eventually Jordan Lake, according to Woods. Materials from the old prison site are also being reused, such as concrete from the sink, and around 400 trees will be planted.
"With the plantation, we try to use as many natives [plants] as possible, "Woods said. "We were able to preserve, I think, eight existing large oak trees that were on the site of the original prison. It was a total of 400 trees entering.
In addition to actions taken by the extension team to reduce the project's carbon footprint, Woods said the team has long-term goals for the future of the park.
"We're working on a three-year goal plan right now and also a longer term 'where do we want to take the park', so it's still kind of developing," Woods said.
Construction of the park is expected to be completed in early July and the official opening will take place in November, according to Woods. The existing park will still be fully accessible from the paved greenway, the parking lot near the East building and the main parking lot to the right of the museum aisle.
The design of the space as a whole aims to create a memorable experience for visitors, as well as to reduce the carbon footprint.
"The idea is really to design a place that invites people to create their own experiences and feel really good, and who feel like they are in a place that celebrates art and celebrates our natural surroundings as well." , Gottlieb said.