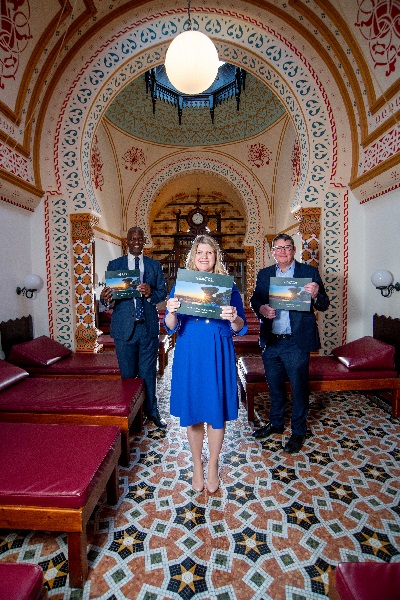 New destination management organization for the city
A Destination Management Organization (DMO) for Harrogate District has been launched.
Destination Harrogate will showcase Boroughbridge, Harrogate, Knaresborough, Masham, Nidderdale AONB, Pateley Bridge and the town of Ripon to attract visitors, events and investment.
This work will be delivered through:
Visit Harrogate is the existing consumer-facing tourism brand that encourages visitors to stay longer and spend more.
The newly launched events office Events Harrogate will position the Harrogate area as a premier destination to host a conference, exhibition, meeting or event.
Invest Harrogate will continue to stimulate foreign investment in the area and promote the district as an attractive location for business growth.
Culture Harrogate will operate the Mercer Art Gallery, the Royal Pump Room Museum, Knaresborough Castle and Museum, the tourist information centers in Harrogate, Ripon and Knaresborough, and care for the 30,000 objects that make up the Harrogate collection.
The new DMO is led by Gemma Rio, who said: "The success of any new organization is built on a solid strategy and a successful destination requires a shared vision. This is why we have developed the Destination Management Plan (DMP) 2022-2025 for Harrogate District, working closely with a panel of stakeholders in the region's tourism economy.
"We developed the DMP with the opinions, contributions, interviews and survey results of a wide range of people and businesses who already have a direct contribution to the success of our visitor economy. their time, ideas and suggestions to make the DMP a meaningful document, with a shared vision to continue to develop a prosperous and growing tourism economy.
"Tourism plays an important role in a thriving economy, with the visitor economy accounting for 14.3% of the total economy of Harrogate district, worth over £600million a year, supporting almost 8,000 jobs.
"The DMP outlines our plan to increase leisure and business visitors and support foreign investment. A destination should be distinctive, attractive and well managed and we have developed this plan to set out the vision, priorities and actions that we as a destination need to put in place to make Harrogate District a top destination.
Stuart Gill, Commercial Director of Newby Hall and member of the Destination Management Plan Advisory Board, said: "This Destination Management Plan is the result of the collaboration and shared vision of some of the key players who make up the dynamic visitor economy in our district.
"The neighborhood is made up of several parts, each with its own strengths and identity. The plan recognizes that working with Destination Harrogate colleagues and with members of the DMP Advisory Board will ensure the district achieves its true potential as an engine of sustainable economic growth.
The DMO news follows the launch of a new campaign by the Harrogate BID designed to support city center shopkeepers and hospitality businesses through a range of special offers.