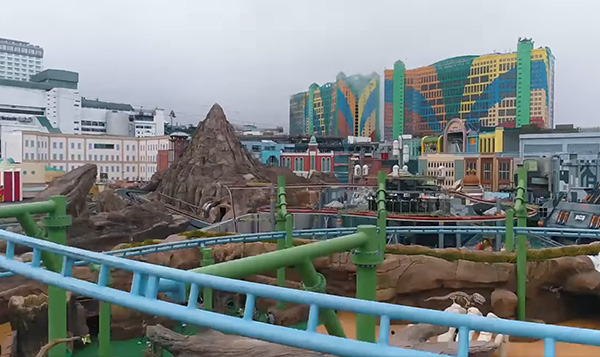 Official opening of Genting SkyWorlds theme park in Malaysia
Covering 10 hectares, Genting SkyWorlds in Malaysia has officially opened and features nine 'lands' including Eagle Mountain, Central Park, Liberty Lane, Robots Rivet Town, Andromeda Base, Ice Age, Studio Plaza, Epic and Rio with 26 rides and attractions, including roller coasters and water rides.
The theme park, which was originally intended to be a 20th Century Fox World branded park, was replaced by Genting SkyWorlds after The Walt Disney Co acquired the Twenty-First Century Fox group of companies in 2018.
The theme park now offers experiences based on blockbusters such as Planet of the Apes, Ice Age, Rio, Robots and Night at the Museum.
The Genting SkyWorlds theme park will be able to accommodate 20,000 visitors at 50% capacity due to standard operating procedures imposed by the pandemic.
Dubbed Southeast Asia's most anticipated theme park, it features an exciting mix of live entertainment, retail and dining experiences, as well as an immersive theme, emotional music and lighting. of high technology that creates a world of adventure and imagination.
Among the attractions available at Genting Skyworlds Theme Park are the ESD Global Defender, where adventurers of all ages can board a "hybrid aerospace fighter" or admire the breathtaking expanse of the theme park from the top of the Terraform Tower Challenge.
The theme park also offers child-friendly attractions such as the double-decker Blue Sky Carousel, Rio Carnaval Chaos.
Future visitors can purchase their tickets online or through the Genting Skyworlds mobile app.
After purchasing their tickets, visitors are encouraged to download the Genting Skyworlds Theme Park mobile app, a one-stop app that provides their ticket information, park maps and Photo+ galleries. The latter allows the photos captured by the park operators to be downloaded directly to their telephone.
Resorts World Genting's Vice President, Head of Theme Park Operations Greg Pearn said the app is integrated with the park's Virtual Queue (VQ) technology, a smart feature that will reduce long expectations in physical queues, giving customers more freedom to do what they want and at a time they choose.
Not only is the app a comprehensive guide to Genting SkyWorlds, complete with real-time information, but it also allows guests to navigate and experience the park virtually before they arrive, giving them a head start on what's going on. to do, where to go and how to get there. the.
Online tickets at www.gentingskyworlds.com or on the Genting Skyworlds mobile app.
Related Articles
August 20, 2021 – Resorts World Genting Unveils SkyWorlds Attraction Lands and Rides
February 26, 2021 – Genting Malaysia Unveils Genting SkyWorlds Brand and New Theme Park Opening
March 19, 2020 – Genting closes Malaysian resort while launching deals for Resorts World Sentosa
Dec 27, 2019 – Genting Malaysia Reports Third Quarter Profit, Provides Upland Theme Park Update
October 22, 2019 – Genting Malaysia Announces Opening of Highlands Theme Park in Second Half of 2020
July 26, 2019 – Genting, Fox and Disney reach settlement in Malaysian theme park dispute
January 24, 2019 – Skytropolis Funland attraction opens at Resorts World Genting Malaysia
December 27, 2018 – Genting Malaysian Highlands theme park moves forward despite brand uncertainty
June 7, 2018 – Genting plans to open Twentieth Century Fox World theme park
April 4, 2016 – Resorts World Genting Redevelopment Extension
February 21, 2016 – Genting Singapore posts lowest annual profit in five years
June 17, 2014 – Genting Malaysia's revenue plummets as Twentieth Century Fox World theme park is built
February 12, 2014 – Genting to build $2.2 billion integrated resort in South Korea
---
Support our industry news service
We hope you enjoy the news we post, so while you're here can we ask for your support?
As an independent publisher, we need reader support for our industry intelligence gathering, so ask – if you're not already – to support us by subscribing to the print version. Australasian Leisure Management magazine and/or our online news.
Click here to see our subscription options.