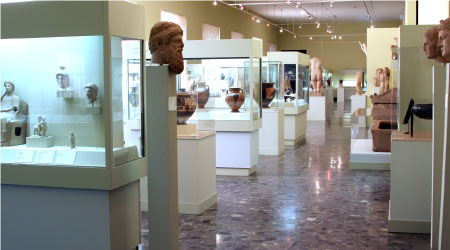 Storage problems: museums face many challenges
Lack of space and deteriorating building conditions can threaten historical documents, artifacts. Here are some tips to avoid the worst.
The worst time to fix a problem in facility management is after a problem has occurred. Unfortunately for museum managers, when something goes wrong it can result in the loss of historical artifacts that help tell the story of a city, country or even the world.
"It is a museum's worst fear that a disaster could occur that damages or destroys even the smallest part of its collections," says Bruce Davis, architect and partner at the firm Cooper Robertson, where he leads the projects. planning and programming of the museum. "But disasters are unfortunately often the wake-up call to recognize the importance of tackling collection risks."
Davis and a colleague authored a recent white paper explaining why museums need to take storage more seriously in their facilities. The white paper addresses the problem and offers solutions to resolve problems that may arise during situations such as floods or fires.
A recent New York Times article describes the threat that climate change poses to the Smithsonian's museums in Washington DC The National Mall, where many museums are located, was once a swamp. Over time, the land could eventually overwhelm the water and threaten the basements of museums where millions of historical documents and artifacts are stored.
The Times article says the American History Museum is already experiencing water problems in its basement. Staff members use flood barriers to hold back water and prevent sensor alarms from going off. Flooding issues can also damage electrical and mechanical units, and high humidity levels can also put valuables at risk.
"Museums may not have been designed for these conditions and may struggle to operate as intended," Davis says. "Other challenges include HVAC equipment that may be near or beyond its normal lifespan, building envelopes that may not maintain a stable indoor environment, and collection storage that may have been located in spaces which, at the time they were planned and designed, were not prone to flooding, but are now.
Natural disasters are not the only concerns of museum facility managers, who also face challenges such as overcrowded storage areas and pest control issues. These overlooked concerns often fall in priority behind the public areas of a museum which will receive the bulk of the attention of maintainers and their staff.
"Almost all museums store far more of their collections than they can display, which makes planning and designing spaces to store and preserve collections a challenge that most institutions will face," says Davis. . "One potential solution is the use of visible storage as a way to show more of a museum's collection and provide another form of visitor engagement."
Davis says visible engagement is a growing trend in the museum world.
"A growing number of institutions are investigating visible storage options," he says. "Visible storage is often arranged in dense displays behind glazing to maintain proper conditions for the objects, and it also has the advantage of giving the public a better idea of ​​the generally unknown breadth and depth of the collection. beyond galleries and exhibition spaces.Recently, some museums have designed storage facilities for entire collections that provide almost full access to the public.
As is usually the case with public facilities, it is often difficult to find funds to carry out projects. In some cases museums are lucky, as in Milwaukee, where about two-thirds of the funding for a Project of 240 million dollars to move the county museum has been secured, with a planned opening in 2026.
Davis offers a number of suggestions for managers hoping to convince stakeholders to fund such projects.
"Perform a storage assessment with professionals who, along with museum staff, can assess current storage conditions and project space and environmental needs to safely accommodate growing collections," he says. .

"Identify whether the building envelope and mechanical systems can maintain appropriate storage environments in changing climate scenarios, identify equipment reaching or exceeding their operational life, and assess the condition of walls and roofs.

"Include architects, engineers, exterior wall and roofing consultants as well as conservators and museum curators. Have a cost estimator budget projects and plan their implementation and phasing.

"Consider offsite storage which could be more cost effective than onsite construction, prioritizing programs for the public. Consider including spaces for viewing collections, study and research as well as off-site storage to reduce the cost and risk of transporting objects to and from the main museum.

"Make sure remediation costs are included in capital project budgets and educate board members who may not be aware of the risks of postponing or minimizing work.

Finally, "it should be mentioned that improved storage spaces attract donors, who want to be sure that their collections will be stored safely."
If new locations or additional funds are simply not forthcoming, a solid preventive maintenance plan can go a long way in preserving artifacts and keeping them safe.
"Follow equipment maintenance and replacement schedules so that minor problems don't become major," says Davis. "Ensuring the collection is stored properly – paying attention to furniture and storage facilities, temperatures, humidity, particle control, lighting and fire protection – this which reduces risk to art and artifacts and maximizes their accessibility. »
Dave Lubach is editor for the Installs Market. He has seven years of experience in facility management and maintenance.
---
---
---
Related Topics: