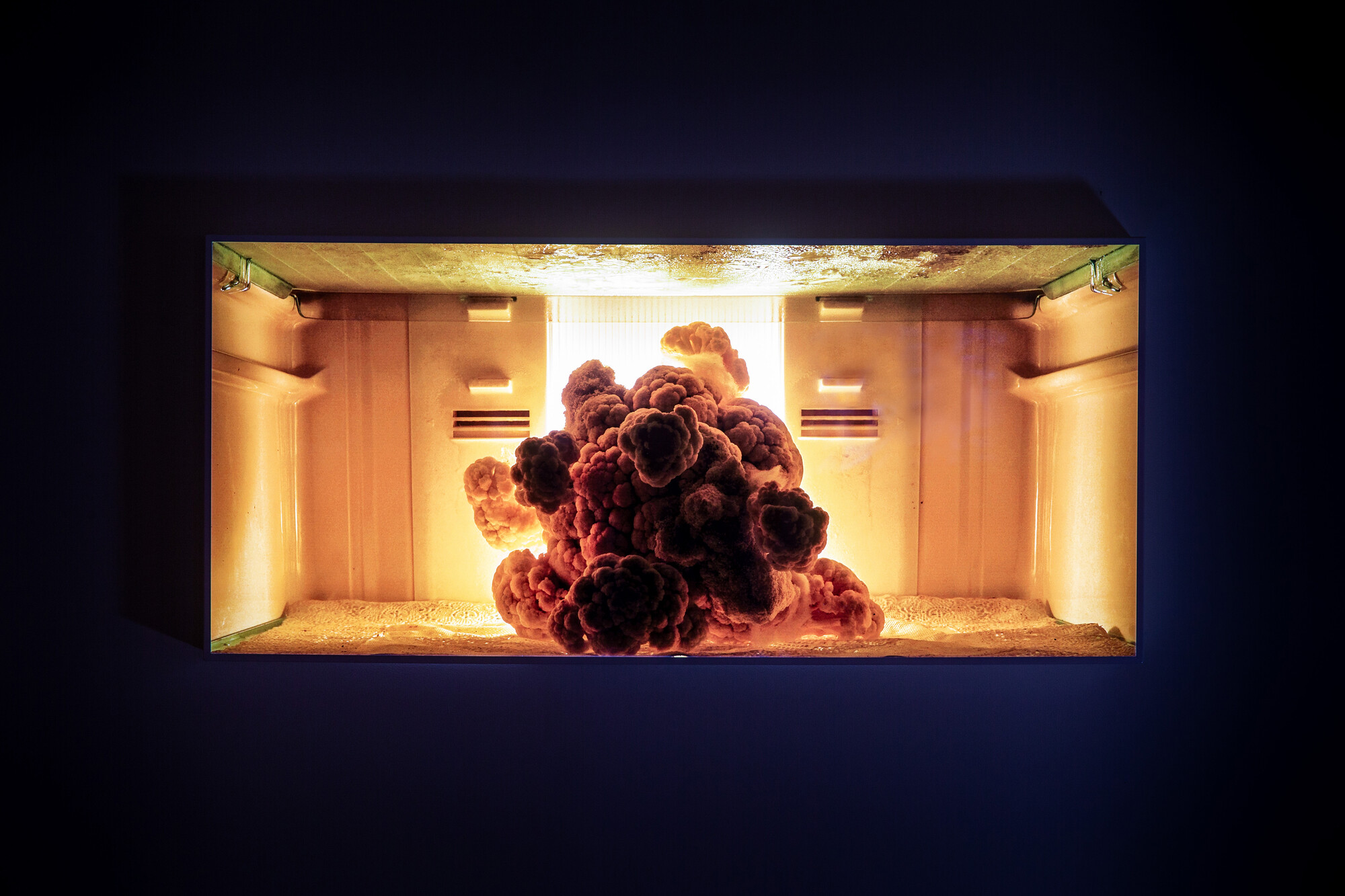 Stories of the Art of Eternal War – Announcements
The Taipei Fine Arts Museum (TFAM) is delighted to present Stories of the Art of an Eternal War: Modernism between Space and Home.
Faced with renewed geopolitical interests in Taiwan, technological wars and planetary crises that demand new shared global visions, the exhibition is a historical cartography of provocative art from the legacies of the Cold War in the contemporary. Based on a research project by guest curators Kathleen Ditzig and Hsu Fang-Tze, it constellates the development of modern art in Taiwan within the framework of a global history and poses the urgent question: in an increasingly divided world , can art fill the gaps in history and geopolitics?
Art stories of an eternal war presents canonical modern artwork from TFAM's permanent collection by Chen Chi-Kuan, Chen Ting-Shih, Chin Sung, Han Hsiang-Ning, Hsia Yan, Hsiao Chin, Lee Shi-Chi, Liu Kuo-Sung, Li Yuan-Chia, Long Chinsan, Shaih Lifa, Yang Yuyu and Yen Shui-Long.
The exhibition also features works by Cho Chung-Yung, Ma Shou-Hua, Ran In-Ting and Wang Da-Hong; historical material on loan from archives, libraries and museums in Taiwan and around the world; and contemporary works by Erika Tan (Singapore / United Kingdom), Sung Tieu (Vietnam / Germany), Maria Taniguchi (Philippines), Chen Yin-Ju (Taiwan), Prajakta Potnis (India), Aya Rodriguez-Izumi (Okinawa / United States), Doris Wong Wai Yin (Hong Kong), Yee I-Lann (Borneo), Writing FACTory (Taiwan) in collaboration with Joy Ho (Singapore) and Joanne Ho (Singapore).
Addressing the complexity of a global history, the exhibition is organized around three themes: "Cosmotechnics after the space race", "The global maid" and "The aesthetic networks of the free world". Focusing on how the 1969 moon landing inspired modern artists, "Cosmotechnics after the Space Race" brings together works that not only celebrated the moon landing, but also recorded a philosophical and perspective shift in it. Chinese modern art. Presented in dialogue and thus pointing to a lasting cosmic imagination, the installation of Chen Yin-Ju Extrastellar assessments (2016) poses a speculative historiography of the 1960s.
"Global Domestic" features crystals engraved with works of modern Taiwanese artists, material on the international circulation of Taiwanese crafts, and works of art that extrapolate the modern home as the facade of an ideological homeland. Yee I-Lann's The Tinukad Sequence 02 (2021), a large bamboo carpet woven by indigenous weavers of Sabah and Maria Taniguchi Untitled (celestial engines) (2012), a video that celebrates the scintillating modern form of the jeepney, discursively raises compelling questions about the insidious neo-colonialism of modern art and design. Doris Wong Wai Yin Being dead will be our only shared identity (2016), made up of portraits of a mother wearing a gas mask, extends this investigation to domesticity. The vast installation of Erika Tan Barang-Barang (2021) speculatively imagines a meeting between four female artists: Dora Gordine, Georgetta Chen, Kim Lim and her mother, Fay Tan and reflects on the enduring historical entanglements between the objects we inherit and the art stories we write.
As the free face of China, the Republic of China in Taiwan represented one of the ideological front lines of the Cold War. "Aesthetic Networks of the Free World" reviews Taiwan's modern artists and their development of an international language of modern Chinese art as they navigate the networks of countries aligned with the United States. Shown alongside, the installation of Prajakta Potnis Cooking debate (2014-) captures a persistent anxiety that has emerged from these networks. Installation by American-Okinawan artist Aya Rodriguez-Izumi Echoes of the last battle (2017–), inspired by an illustrated book by his father, and installations by Sung Tieu, Exposure to Havana syndrome, brain anatomy, coronal plane (Sample 1-12) (2021) and Songs for Unattended Objects (2018), reveal the psychic traces of the wars of the twentieth century.
Commissioned for the exhibition, New Earth No. 3069, by Joy Ho, Joanna Ho and Writing FACTory is a web-based graphic novel that chronicles an interstellar colonization expedition into a future without nations and led by a mega-corporation. A veiled account of the duplicate history of our contemporary world order, history imagines an alternative universe for modern art from the exhibition.