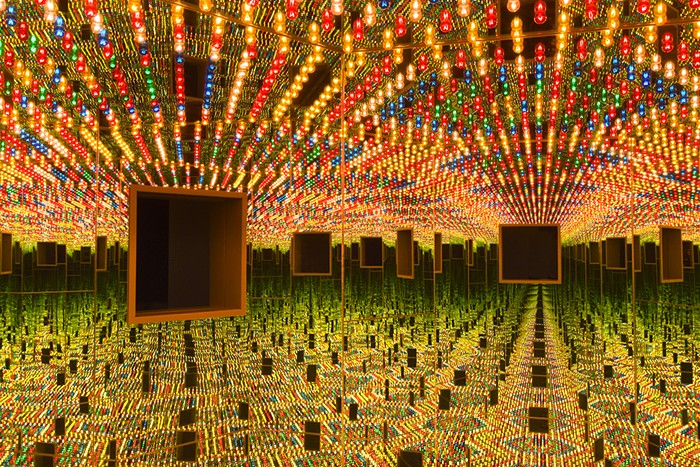 Walk into infinity at the Seattle Art Museum
In summer 2012, I had the opportunity to experience infinity. The exhibit was Fireflies on Water by Yayoi Kusama at the Whitney Museum in New York. I booked a ticket hours in advance and at the scheduled time there was a queue of several people. Anticipation intensifies the experience.
I walked through a white door and into a small room with mirrored walls, two inches of water covering the floor, and a platform just big enough for one person. Electric lights hung from the ceiling – 150 to be exact – but their reflections in the mirrors stretched out in all directions to create an endless field of dots of light.
I had a minute.
As my eyes adjusted to the relative darkness, I realized I could start to see reflections receding so far away they were barely noticeable, and moving my head a little revealed even more beyond of these. The effect of the lights was so overwhelming that I felt tiny, despite being the only person in a room a little bigger than a pantry. It was a completely immersive experience, like being in outer space, or the inner depths of meditative vision.
My minute was up.
Throughout history, many artists have taken up the challenge of how to illustrate the concept of infinity given the limitations of art materials and human perception. The Mirror Rooms that Yayoi Kusama began producing in the 1960s represent a breakthrough. Instead of trying to paint the idea of ​​infinity, she had created a way for viewers to directly experience it.
Now a 50-year retrospective of Kusama's work, Infinite Mirrorsarrives at the Seattle Art Museum, June 30 through September 10. It includes Kusama's original Hall of Mirrors, filled with white phallic shapes with red dots.
Kusama was born in 1929 in Nagano Prefecture in Japan. Although she showed extraordinary interest and abilities as a child and had visual hallucinations that inspired her to draw what she saw, her artistic aspirations were discouraged by her family.
"My mother told me that I was not allowed to paint, that one day I would have to marry someone from a rich family and become a housewife", she recalls in an interview conducted by the Tate. "When I was little, she took all my inks and canvases away from me."
Instead, her mother would force her to spy on her father's illicit sexual exploits. The trauma of this experience instilled a lifelong distaste for sex, and a fear of the phallus in particular. According to Kusama, the phallic forms of many of his sculptures and installations were a form of art therapy. "I filled a room with it and lost my fear."
Determined to make an international name for herself as an artist, Kusama traveled to the United States in 1957, originally settling in Seattle. His first American exhibition was here at the Zoe Dusanne Gallery, famous for bringing national attention to Northwestern artists like Mark Tobey and Morris Graves. But Kusama's aspirations soon brought her to New York, where she found an art scene dominated by white men.
Competitive and tenacious, she tried to outdo each of them, producing massive and highly inventive work, including "net" paintings depicting negative space around thousands of tiny dots, and events that involved painting peas on hordes of naked bodies. — another form of immersion therapy for his own sexual trauma.
Kusama established herself as an avant-garde staple, but her success came at the cost of long hours, limited cash flow, and the constant strain of being a cultural outsider. In 1973, Kusama returned to Japan, where she finally resumed her obsessive schedule. In 1977, after a particularly intense painting session, she went to the Seiwa hospital for the mentally ill in Tokyo. She has lived there ever since, voluntarily, managing nine hours a day to work in her nearby studio. It is a routine that lends stability and durability to a practice that can be, in the artist's own words, 'self-obliterating'.
Interest in Kusama's work has grown in recent years, in part due to high profile exhibitions at the Tate, the Whitney and other major international institutions. When Infinite mirrors opened at the Hirshhorn Museum in Washington, D.C., in February 2017, it drew more than 32,500 visitors in one week – the museum's highest attendance on those dates in decades.
The exhibition's next stop is the Seattle Art Museum, and anticipation is already high in the city that hosted its first exhibition in the United States 60 years ago.
The playful accessibility of Kusama's work, coupled with her authentic expression of cosmic wonder, has made her one of the world's most successful and iconic contemporary artists. Infinite Mirrors promises to be a flagship exhibition for SAM and one of the must-do experiences of the summer.